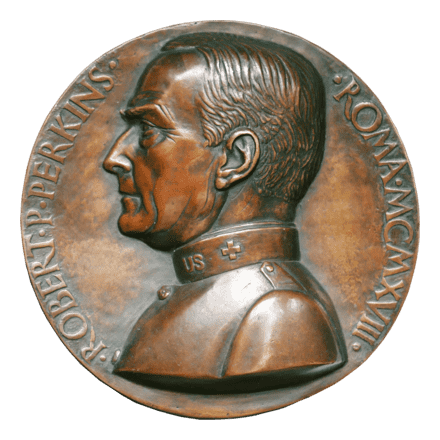 Robert P. Perkins Medallion
by Paul Manship
Welcome to
Medallic Art Collector
, a labor of love about a small slice of Medallic Art!
Before anything else, a technical note: this site is best viewed with the Chrome, Firefox or Opera browsers. It works on all browsers but current versions of Apple's Safari seem to occasionally misrender the larger medal images and the Windows Edge browser sometimes fragments images when scrolling the page with the mouse (it works well when you scroll with the keyboard or the navigation buttons on the page). Who knew that image rendering was so hard?
You might notice the absence of a scroll bar. If you're using a traditional screen and mouse, use the mousewheel or hold the mouse button while moving the mouse and you'll scroll the page. You can flick it and arrow keys work as well. On touch devices everything works as expected. But back to the medals now...
"Medallic Art" can be interpreted to refer to the products of the Medallic Art Company (MACO), historically one of the finest American manufacturers of art in medal form. More generically, "Medallic Art" refers to any medal-shaped bas-relief object of some artistic value.
Over the centuries a lot of coins and medals have been produced. This site does not even attempt to cover them all. Sadly, in particular the "artistic value" part of the definition disqualifies many round metal objects that are very collectible but, in my opinion, have little artistic merit. For me, they might totally satisfy the "collectible" check-box but fail utterly in the "artistic merit" department. They are what I call the "bread and butter" pieces, the medals and coins that kept artists and mints in business, the trade coins, the town commemoratives, many of the highly popular "So-called dollars." They are extremely collectible but I just don't see much beauty in many of them and don't want to clutter up the site. I hope that all "So-called Dollar" collectors will forgive me. I acknowledge that this is an arbitrary and highly personal judgement call. My wife for example is very ho-hum about most of the medals that I find breathtakingly beautiful.
This site started out as a purely personal effort that allowed me to enjoy my own collection on-line. Over time, other collectors sent me pictures of some of their treasures and I incorporated them into the site.
At least for now, one small niche of the larger world of medals remains central to this site: 20th century and current American medallic art. That does not mean that you won't find other medals here. I don't shy away from beautiful 19th century medals and there are many international sculptors represented on the site as well, usually though because they had some connection to the U.S.